Product Tech
Battery R&D
E-Drive R&D
Charging R&D
Energy Storage R&D
Leading power battery system development capability, including EV, PHEV, HEV, 48V battery system and BMS products
The first domestic development and mass production of 170Wh/kg BEV battery pack to solve the customer's pain pointof vehicle endurance
The first domestic development and mass production of 145Wh/kg PHEV battery pack
The industry's first IPS integrated technology realizes the lightweight and non-thermal diffusion battery pack
The industry's first battery stack module technology and three side surround liquid cooling technology
World class electric drive system
The maximum motor efficiency is 97.86%, the peak effciency of the system is 95%, and the EDS power density is 2.19kW/kg
AUTOSAR architecture and MBD modular development meet the requirements of information security CAL2 and functional security ASIL-C
It is equipped with P-lock or disconnector options, electric drive static heating, dTCS, SiC controller and other rich configurations to meet various requirements of customers
Applicable to SUV, car, MPV, truck and other front and rear drive and 4WD models
The first domestic 20kW integrated charging system
The first domestic 20kW high-power charging and discharging system, slow charging time is shortened by 2/3 compared with others
Charge/discharge/DCDC function integration
Single-phase/three-phase charging compatible, charging maximum power 20kW
V2L/V2V/V2G, maximum discharge power 20kW
Applicable to passenger vehicles such as SUV, EV, HEV, PHEV, etc
Meet the domestic and foreign charging requirements of China, the United States, Europe, Japan, South Korea, etc
The pioneering domestic four-in-one safety design of "predict, prevent, resist and improve"
Overall comprehensive energy project design. According to the scenarios and energy demands provided by customers, reasonably allocate renewable energy and energy-saving equipment, and help customers achieve the carbon neutrality and emission peak goals of energy conservation, efficient energy use, improving energy quality and improving the reliability of energy systems, while taking into account the requirements of aesthetics, practicality and economic nature
Development of comprehensive energy storage equipment. Big data /AI monitors battery status throughout its life cycle; 1ppm multi gas component monitoring; Application of new heat insulation fire fighting materials; Biochemical water tank prevents pollution of soil and groundwater
Independent EMS, BMS, big data platform, app development and manufacturing capability
Patent
Through the unremitting efforts of more than 3000 researchers and developers, VREMT has obtained 64 invention patents, 113 utility model patents, and 5 appearance authorization in technology research, design application, process manufacturing and testing, covering core technologies such as modules, cells, and BMS. The company gradually carried out the international patent layout and applied for 8 international PCT patents.
Test Capacity
We invested CNY 200 million in the test center which covers an area of 20000㎡. The test covers the field of battery, motor, and electronic control, including environmental reliability, vehicle WDDL, physical and chemical testing, etc. It has the testing ability from the material level to new energy automobile parts level and then to vehicle level, meeting the domestic and foreign testing standards such as GB, ISO, UN, UL, ECE, and enterprise standards as GEELY, VOLVO, LYNK&CO.The test center has been established and operated in strict accordance with the ISO/IEC 17025 system requirements and has been approved by CNAS and SQE of GEELY.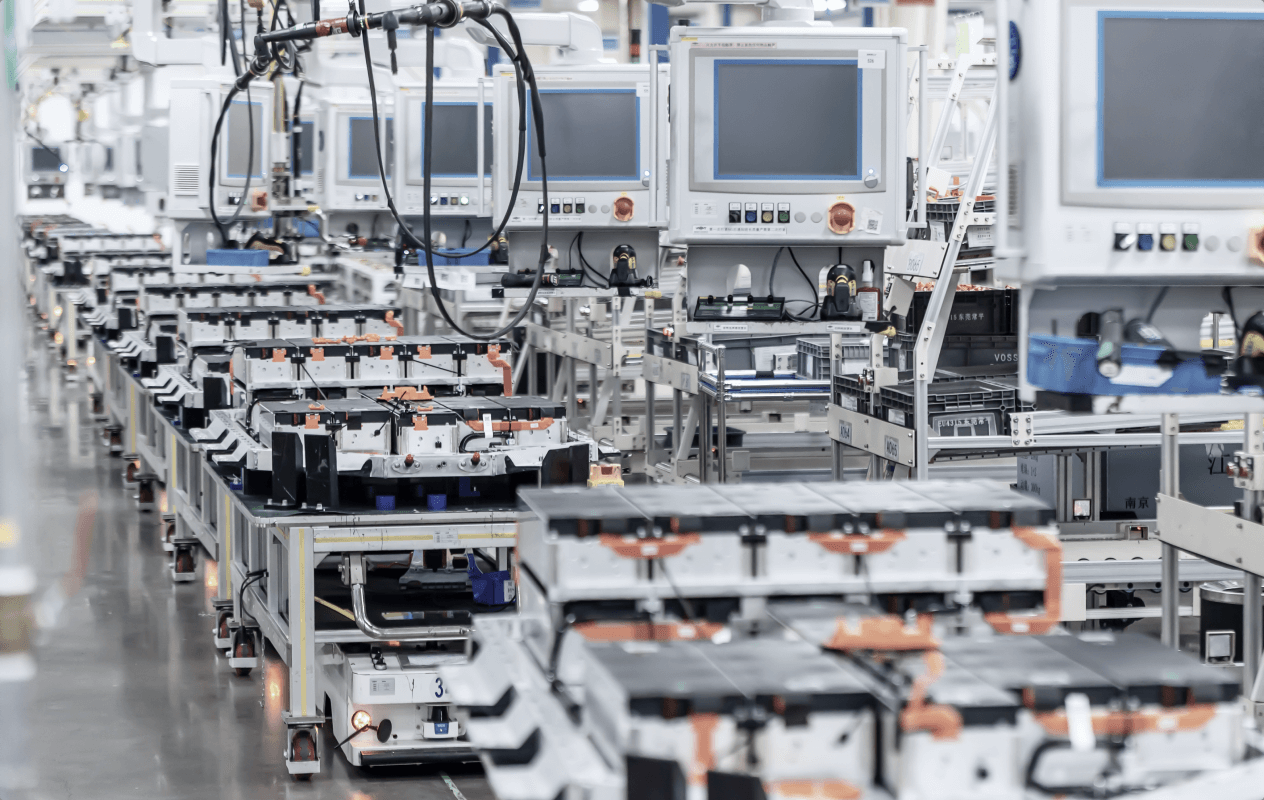 Battery Test Capability
Electrical performance
Safety test
Functional test
Environment Reliability Test Capability
Vibration with temperature & humidity
Thermal shock
Damp heat
Sea water immersion
Salt spray
Ingress protection
High altitude
Mechanical shock
Fall
Motor & Electric Control Test Capability
800V High-voltage system test bench
E-Drive test bench
Powertrain test bench
Performance test bench
Electric control test bench
Electrical & electronic test
Charging System Test Capability
OBC&DCDC test bench
OBC&DCDC endurance test bench
Supercharger test bench

ASIL-C
ASPICEII
CNAS
IATF16949
TÜV
Quality Assurance Capability
The quality system covers R&D quality, manufacturing quality, quality improvement, supplier management, etc. The whole process of quality operation management is implemented
VREMT has perfect hardware and software quality assurance capability, and has passed IATF 16949 quality management system certification, ISO/IEC 17025 CANS laboratory certification, ASPICE Level -2 process certification, ISO 26262 functional safety product certification, and A-level evaluation of GEELY's whole process competitiveness quality system.
VREMT has advanced and scientific inspection and analysis capabilities from vehicle specification level to industrial level parts and assemblies. It is equipped with power battery EOL test system, electric drive NVH Discom test bench, electric control 100% aging test system, and has three coordinate precision measurement room, standardized metallography room, cleanliness analysis room, gear measurement center, etc.
Manufacturing Capacity
Pack Production Line

Pack Production Line

Equipment

5 automatic production lines, 7 flexible production lines, compatible with 0.38~102kWh power range product sequence, the annual production capability of 960,000 sets of battery system; first-class equipment brands for testing, laser welding, screw locking, six-axis robot module assembly, AGV online and offline logistics turnover and other processes

Craft

Develop and verify first-class module and PACK process technology with continuous and stable mass production

EDS Line

EDS Line

Equipment

Seven production lines are for EDS1, EDS2 three-in-one assembly, and ICS charging product service. The EDS1 production line is composed of stator line, electric control line, general assembly line and test line, with an annual output of 150000; The annual output of EDS2 production line is 80000 and that of ICS production line is 53000 / year; Among them, EDS1 stator adopts the manufacturing process of 8-layer hairpin flat wire, and the whole line is introduced by Italian ATOP company

Craft

Advanced technology and first-class manufacturing and testing equipment ensure the high-quality requirements of products

E&E Production Line

E&E Production Line

Equipment

There are CSC automatic production line and BMU/CVS automatic production line, of which CSC is the fastest fully automatic production line in the domestic BMS industry at present. It has modular design, high flexibility and compatibility, and can realize the exchange of single work stations, the integration of manual and automatic, and the free combination, and the real-time monitoring of mobile terminals

Craft

Four advantages: team experience analysis, standard library, CBA software analysis ability, DFX, and new process R&D advantage to achieve the seamless connection between product R&D and product industrialization

Supercharging Production Line

Supercharging Production Line

Equipment

1 production line for 600kW supercharging system

Craft

Capable of manufacturing, inspection and commissioning of ultra-high power charging system